Basketball Manawatu are thrilled to acknowledge the commitment (not only locally but also nationally) of the following dedicated volunteers who have each been awarded Life Membership to our basketball programme here in Manawatu.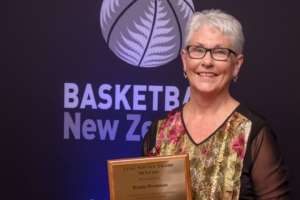 Mrs Wendy Workman – Patron of Basketball Manawatu
Wendy was inducted as a life member at our volunteers function on October 20, 2005. Wendy still plays basketball in the Walking Basketball competition and has been a past President of the PNBA (now Basketball Manawatū). Wendy also has skills when it comes to running tournaments and working on the score bench.
Mr Willie Bryant
Willie has been involved in basketball for over 50 years in a variety of roles. He was nominated for the tireless work he has done for the Association by coaching, refereeing, teaching referees and his work in the overall running of the PNBA for many years. Click here to read more about Willie's contribution to basketball
Mr Bill Hay
Bill Hay has been inducted as a Life Member of the PNBA. Bill has been instrumental in making the Palmerston North Basketball Association the success it is today.
Mr Ron Strange
Ron started with Basketball in 1947 playing for Wellington. Posted to Ohakea and played for Palmerston North. He captained the B Division Tournament team. He was posted to Auckland where he played for Auckland at National Champs in Hamilton and was selected for the tournament team and the North Island Team. When he was posted to Christchurch Ron played one game for Canterbury and also made RNZAF team. When he was posted back to Ohakea and he played for Palm Nth in Dunedin and selected for tournament team and NI Team. Ron coached and along with Ray McBain and Bill Clark, started the Friday night Junior League at which 700 secondary school children took part. At the same time the Chinese Youth Club were keen to have him coach their children.  Ron played club basketball for Manhatton Maulers and won the local competition for many years. He coached his son's Lakers team and his daughters Cavaliers team. Ron took the PNBA women's Rep team to Hamilton and won NZ Champs 2nd Div. He also helped Ray McBain coach the mens Rep team and at the same time coached Massey. Ron became a selector/coach for the NZ Universities teams.
Mrs Bev Page
Bev was inducted as a life member on October 20 2005. Bev had been involved in basketball since the early 70's and was one of the local referee trainers and referee evaluators of the NBL referees.
Mr John O'Connor
John was inducted as a life member on September 21 2006.  John was the Treasurer for the PNBA for many years and was in charge of stats for Jets games for a number of years with help from his wife and family.
Mr Joe Frost – Deceased
Joe was inducted as a life member on September 21 2006. Joe has been the Coach of the Palmerston North Boys High School Premier team and won the Secondary School Nationals twice back in the early 1990's, as well as several successful years with the Manawatū Jet's NBL team.
Ms Dot McLean – Deceased
Dot was inducted as a life member on October 20, 2005. Dot became involved with Basketball when working for the Palmerston North YMCA, refereeing many games both here and throughout the country and a vast array of tournaments.
Mr Grant Leckie – Deceased
Grant was a referee with the PNBA for a number of years and lived opposite the Pascal Street Stadium.