Basketball Manawatu are delighted to be able to offer our Early Morning Development sessions to youth aged 10-18 again in Term 1, 2022. Click here to see flyer for details.
If you would like to register, please click on the link here and fill out the necessary details.
https://membership.mygameday.app/regoform.cgi?formID=96221
If you are NEW to the association, please register.  If you have already signed up to Gameday, please log in and add the MORNING DEVELOPMENT SESSION CLUB to your registration information.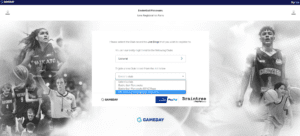 When you enter your details,  you will be prompted to 'join a new club'.  At this point, hit the drop down box and scroll down to BM Morning Development Sessions.  Click on this and complete information that follows to register to our sessions.  If done correctly, you should receive a confirmation email within the hour to your registered email address.  If you do not receive this, please email Tess at the email address below for assistance.
For more information or if you have any questions, please email Tess – competitionsandevents@manawatu.basketball
Numbers are limited to get in quickly, first session for 2022 will kick off on Tuesday, 15 February.
Players are encouraged to come along to get some quality coaching from our fantastic dedicated coaching staff.
We hope to see you there!