ALERT NOTICE.
Click on the link if you are interested in becoming a basketball coach with Special Olympics Horowhenua; or if you are keen to assist Special Olympics Manawatu with basketball, you can just contact Mike Ryan (the General Manager of Basketball Manawatu who is also the Chairperson of Special Olympics Manawatu).
Special Olympics offers year-round sports training and competition opportunities for people with an intellectual disability.
Here in Manawatū the programme has been running since Special Olympics was first introduced to New Zealand back in 1984.
With nearly 200 athletes, supported by a large number of volunteers, Special Olympics Manawatū is one of the largest clubs within the New Zealand programme.
 Special Olympics Manawatū offers its community opportunities across all 12 officially sanctioned Special Olympics New Zealand sports.
Sports such as Alpine Skiing, Athletics, Basketball, Bocce, Bowling, Equestrian, Football, Golf, Powerlifting, Snowboarding, Swimming and Table tennis.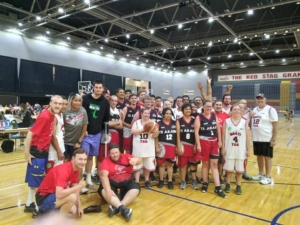 Its Basketball programme works on building skills from handling the ball, dribbling, passing, shooting, and developing game strategies. Offering training and competition for athletes of all abilities and ages.
Players can compete in Basic Individual Skills competitions, through to 3×3 and full 5×5.
Special Olympics basketball follows FIBA's mainstream basketball rules; with some Special Olympics specific variations, all contained with Special Olympics Sports Rules.
Promoting inclusion is a cornerstone of Special Olympics philosophies and practices. And so through the Special Olympics Unified Sports® the programme can offer an inclusive sports program that combines an approximately equal number of Special Olympics athletes (individuals with intellectual disabilities) and partners (individuals without intellectual disabilities) on teams for training and competition.
Here in New Zealand (and indeed Manawatu) there are a number of athletes who train and compete with mainstream clubs as well as the local Manawatu club. Unified Sports creates more opportunities for athletes to train and compete alongside people who don't have an intellectual disability.
For more information about unified sports and Special Olympics Manawatu please follow us on Facebook https://www.facebook.com/SpecialOlympicsManawatu/